Seamless home battery backup power.
2-80 kW
Our battery backup systems can be scaled from 2 -80 kW to meet your home needs.
100% Li+
Each system employs lithium ion battery banks housed inside our NEMA rated enclosures.
10 Years
You can rest easy, our LiFePo4 battery banks have a 10 year warranty.
1 week
Don't wait months for your system to be installed. We can get you going quick!
Modular Design
Our modular system is more adaptive and cost-efficient than a single-piece product. Our systems are a scalable, custom-fit solution that ensures you won't pay for more than you need.
With or Without Solar
Maintain power to your home during emergency electrical outages, utility issues, fire or other blackouts. Add a solar option to charge batteries for extended periods of continous power.
We will include everything you need for a seamless transition to battery backup power when faced with fire, hurricane or other emergency.
- Available UL listed components
- Cloud based monitoring
- Automatic generator control
- Fully outdoor rated  NEMA 3R
- 4 kW - 80 kW power output
- Scalable battery storage
- LiFePo4, Advanced Lead Carbon and VRLA
Each system includes power inverters from industry leaders solar in power conversion components - Schneider Electric and Outback Power.
Our battery banks utilize lithium ion batteries manufactured by Discover Battery, SimpliPhi Battery and VRLA that produce reliable and proven power storage.
Our systems are designed  to ensure your home has the highest quality backup battery system.
Learn About CA Battery Rebates
California's SGIP provides incentives for residents who install battery power backup system to their homes - and we can design a qualified system that fulfills the requirements to receive this rebate.
Give us a call and we will walk you through a system that will provide the power you need and the cost you want.
Questions? We Can Help!
We don't just sell the best battery backup systems for your home - We use them as well! We are here to help and answer any questions you may have about battery backup power.
1-855-437-6527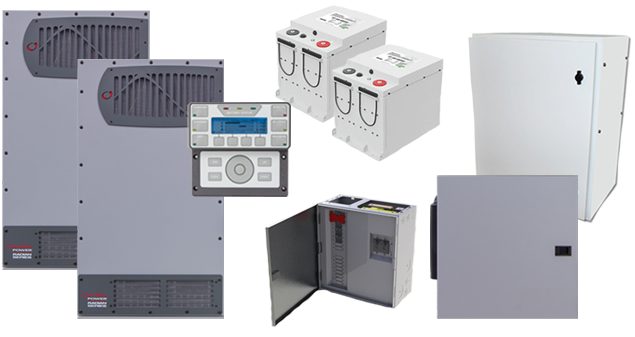 View Our Most Popular Kits
Take a look at are our most commonly sold kits. We will customize from 4kW to 80kW  to ensure your system meets your specific needs.